AUTUMN'S OASIS

A cozy embrace of fall favorites with warm notes of vanilla, amber, and spicy aromatics.
DISCOVER YOUR PERFECT SCENT

Not sure which fragrance is for you?
Embark on a tropical fragrance journey with 15 our best-selling Eau De Toilette fragrances, include our best-selling Vanille Abricot. Plus the kit includes a voucher for 15% off your new favourite fragrance.
Vanille Abricot | our best-seller

"I will never stop loving the Vanille Abricot...I've been a fan for close to 20 years! Instant mood lifter when I wear this. It's such a beautiful, smooth, tropical scent– always feel beautiful wearing this."
TRAINS, PLANES & SPRITZES

YOUR FAVORITE TRAVEL COMPANIONS

Choose three unique 10ml sprays with our Travel Set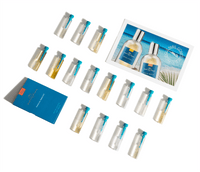 EMBARK ON YOUR FRAGRANCE JOURNEY
Our Best-Selling Eau de Toilette fragrances available for you to discover— Explore olfactive paradise with our global-bestseller, Vanille Abricot, and 14 other cult-favorites.
When you find the scent (or scents... layering is encouraged!) you adore most, use your included 15% off voucher to upgrade to a full-size.
START SAMPLING - $30
Made by you, just for you

Sample Set
Choose three unique 2ml samples
- Try Before Buying a Full Size
- Promo Code for Bigger Size
- At least 7 ways to Layer!

Travel Set
Choose three unique 10ml sprays
- $78 Value (Save $23)
- Mix & Match
- At least 7 ways to Layer!

Deluxe Set
Choose three unique 30ml scents
- $126 Value (Save $37)
- Mix & Match
- At least 7 ways to Layer
Featured in
Scents worth talking about